Thousands expected to cycle on car free routes
The Mayor of London's Skyride - Hounslow takes place on August 9th and thousands are expected to take part.
Cyclists of all ages and abilities will be able to pedal along a special car-free route, taking in some of our neighbouring borough's green spaces, including Lampton Park and Syon Park.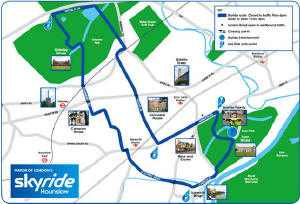 The Hounslow event, which is sponsored by Sky, is part of a summer of cycling in the capital. It's the first time that such an event has been held outside of London's zone one.
Cyclists from all over west London and greater London are expected to join in.
Ealing Cycling Campaign will be joining the ride.
David Eales says:''We'll lead all riders in convoy from Ealing Town Hall to the festival in the same way as we've done before over the years in other mass events. Last year 200 riders rode into central London for a glorious celebration of cycling around London as it should be seen.''

Meet at 10:00am from Ealing Town Hall.

For more information Ealing Cycling Campaign or email info@ealingcycling.org.uk
July 28, 2009