Sunday 18th September
There will be a spectacular 'Opening Jam' at Ealing's brand new state-of-the-art skatepark, this coming Sunday, 18th September, with activities and entertainment for all ages, starting at 10.00am.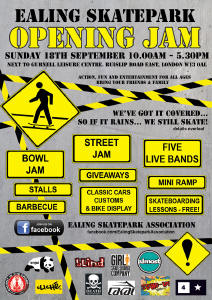 With an amazing line-up of five live bands, DJs, pro skateboarders, free skateboarding lessons, food & drink, giveaways, stalls, a display of classic cars and bikes, free facepainter and lots more, this promises to be great day out for the whole family.
Come along early for a free skateboarding lesson, see the Official Opening by the Deputy Mayor, and stay to enjoy the live music and spectacular skills on display.
Headlining on the music stage will be Knocksville, who are all set to tour with the chart-topping Imelda May, and 'Big Brother' winner Pete Bennett with his band.
Whilst on the skatepark, there'll be non-stop action with some of the UKs best skateboarders demonstrating their skills.
Everyone's welcome, and admission is free.
Ealing Skatepark is next to Gurnell Leisure Centre, Ruislip Road East, London W13 0AL
Join us on facebook at www.facebook.com/EalingSkateparkAssociation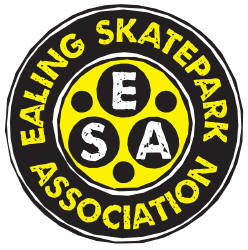 14th September 2011