Friends share competition giveaway at Ealing Broadway Shopping Centre
Emily Knight and Charlotte Sipi from Northolt are the best of friends, and whilst watching the Ealing Broadway shopping centre autumn fashion show at the beginning of the month, they decided to to enter the competition together - never expecting it would be their lucky day.
The girls both 22, were born only eight days apart and have grown up doing everything together, so it seemed natural to them to enter the competition and share the prize if they won.
Emily Knight said, "I really wanted to win the Ray Bans and Charlotte wanted the new clothes, so we decided to enter it and share the prize if we won, as we do everything together. I can't believe I won, I never win anything and I love the glasses!"

The girls won over £250 worth of clothes and accessories from David Clulow, New Look, M&S and Primark.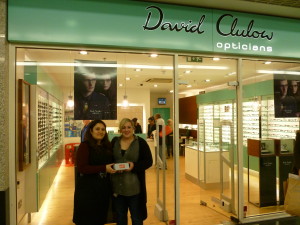 The competition was to mark the change in fashion season as the autumn/winter collections were modelled by students at West London College, showing the latest trends from high street favourites, such as M&S, River Island and Primark to name but a few.
Sailesh Siyani, Head of Commercial Development & Training at the College, said: "We are grateful that Ealing Broadway shopping centre gave our students the chance to get involved in the event. The students expressed how much they enjoyed the experience and are willing to take part in another fashion show, if the opportunity arises."
25th October 2012