For the opening of Grange Primary's magnificent new building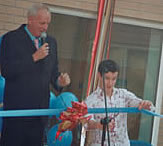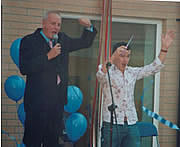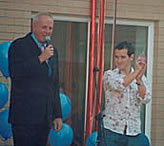 'Bogies' came the cry as Ealing Mayor Mrs Hazel Ware looked on at the Grange Primary School Opening Ceremony earlier this month.
But we'll excuse the insolence of the school children - they were only following orders from Children's TV presenter Dom (famous for his role in award winning CBBC television series Dick and Dom in da Bungalow).
The surprise irreverent guest was a great hit with the children, and the new school building has a few fans too!
"After having been in a dowdy, crumbling building for so long the new school is proving to be a huge hit with the children and teachers," said Headmaster Hans Formella. "The building not only provides a fantastic teaching and learning environment; it also offers the school the opportunity to open up the possibilities for extended school activities.
"The introduction of Interactive White Boards into the classrooms and the availablity of ICT throughout the school is already proving to be very popular with both pupils and teachers. The children obviously enjoy their new surroundings as they are far calmer and show a renewed pride in their school. As for extended school activities, we are already planning early morning ICT / Library access for children and are looking to extend this to parents in the future."
Mr Formella managed to enlist Dom's help through his connection with (Rev) Stephen Paynter at St. Mary's church. "Dom was married at the church as he is a local resident," he said. "It just so happens that Stephen is a school governor and knew we were looking for someone to open the school."
At the end of the ceremony 500 balloons were released, the five to go furthest to receive a surprise gift signed by Dom.
Grand Designs
The new building has two ICT suites, a library, a large studio for music, drama, small assemblies and meetings, and a fully kitted out home economics teaching kitchen;
Each classroom, the hall and the ICT suites are equipped with interactive white boards to make the curriculum come alive;
There are designer toilets for pupils and staff;
The hall has a mezzanine floor to accommodate a larger number of people.The floor of the hall is covered in a multi-purpose sports surface;
Digital signage will be available in the main entrance area and the nursery group room to provide daily information to parents;
The new building is also more environmentally friendly – the roof is clad in cedar singles, much of the hot water is provided by a ground source heat pump (the pipes go down 80 meters into the ground.) The classrooms have under floor heating.
November 2, 2007