A top class meal in Ealing
Related Links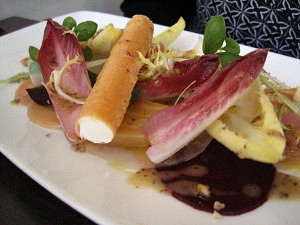 Heirloom Beetroot with walnuts, bitter leaves and innes goats curd cheese cigar.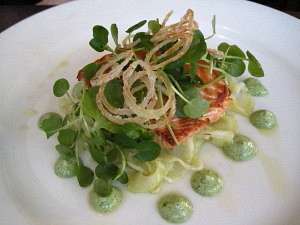 Grilled Salmon Fillet, Watercress Mayonnaise, Fennel Salad and Crispy Shallots'
16 St Matthews Road
London W5 3JT
020 8567 7541
Participate
Sign up for our free newsletter
Comment on this story on the
Charlotte's Place is Ealing's favourite restaurant and deservedly so, but times are hard, fine dining for many people is often regarded as a luxury reserved for special occasions.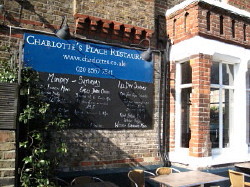 At Charlotte's this needn't be the case. A top class gourmet lunch-time meal can be yours for as little as £12 (two courses) or three courses for £15 (wine extra).
Owner Alex Wrethman and Head Chef Greg Martin have conjured up an absolutely delightful lunch-time menu (12-3pm)which is altered slightly every week and offers something for everyone.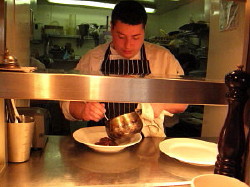 Chef at work
I wanted the 'Smoked Haddock and Sweet Corn Chowder' as a starter, but so too did my husband. On this occasion he won - but only on the understanding that I would HAVE to sample some (for review purposes you understand).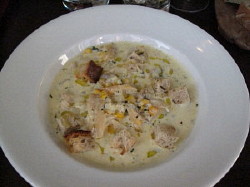 A chowder to die for

Words cannot do justice to how totally delicious this dish was. Packed full of succulent, tender and flaky smoked haddock with golden niblets of crunchy sweetcorn, it was an absolute delight. The creamy sauce was exquisite; rich and satisfying, a dish that gives so much pleasure you never want it to end.
Hubby ranked it as one of the best starters he has ever had. High praise indeed from someone who can be more than a little fussy over his meals. Verdict? Top notch comfort food - a resounding 10/10.
My starter was a colourful and tasty heirloom beetroot combination with walnuts, bitter leaves and innes goats curd cheese cigar (pictured above).
The widely known red beetroot was once only one among many types of beet grown in this country. Why the others (heirloom) fell out of favour remains a mystery to me as they are delicious. The nutty texture of the walnuts contrasted with the soft slivers of yellow and red beetroot and were complemented by the creamy curd cheese.
With my oohs and arghs of delight it must have been fairly apparent to anyone sitting near us that I was very happy with my starter. Verdict? An explosion of taste and texture 10/10.
A good dining experience is largely about the food but service is key too. A word or two here for antipodean Vince who looked after us throughout. An absolute professional, highly knowledgeable regarding the menu and wines, exceptionally efficient with our orders, swift in filling our glasses and very friendly without being intrusive. A gem - long may he stay.
Having had such delicious starters we wondered whether the mains could match. We needn't have worried.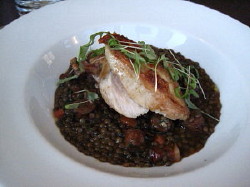 'Roast Chicken Supreme with Puy Lentils Pancetta and Merguez Sausage'
Hubby had the chicken and I enjoyed the 'Grilled Salmon Fillet, Watercress Mayonnaise, Fennel Salad and Crispy Shallots' (pictured above).
By this point the chatting had largely stopped as we marvelled at chef Greg's culinary masterpieces. The chicken was declared to be tender and juicy, my salmon was cooked to perfection - crisp on top and succulent underneath. Both dishes were given the thumbs up.
The wine list at Charlotte's is extensive, bottles start around £16 and go up to an eye watering £160 (an Italian Chardonnay 'Rarita' from 1996).
Surprisingly we didn't opt for that one but instead had a light quaffable Spanish Macabeo ( £20) which complemented both meat and fish dishes.
Amazingly we still had room for dessert and, as we were in no hurry we could linger a little longer in this pretty neighbourhood restaurant overlooking Ealing Common.
I enjoyed the lemon tart, which came with a soft creamy Italian meringue and sweet blackcurrant sorbet. Hub relished the selection of artisanal cheese with quince paste and oat cakes.
A coffee completed our perfect lunch and, as the sun peeped out over the daffodils on the Common, it felt like Spring had arrived, we were completely sated.
Verdict: 10/10 - Some of the set lunch dishes on offer are also included on the more expensive 'A La Carte Menu' so grab a bargain early on in the day. This is a great way of eating gourmet at much cheaper prices.
Annemarie Flanagan
9th March 2011