The Hanwell Hootie 2014
Related Links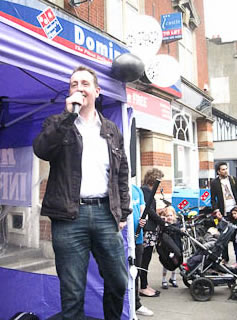 Council Leader Julian Bell spoke about Ealing and Hanwell's musical heritage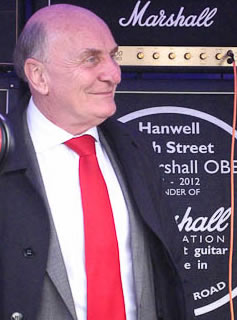 Ealing North MP Steve Pound certainly knows how to enjoy himself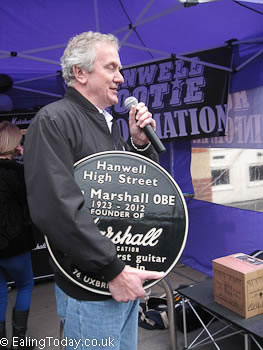 Sponsors Marshall Amps receive memorial plaque
Participate
Sign up for our free newsletter
Comment on this story on the
From kick off at 4pm with a minute of loud in memory of the great man himself, Jim Marshall, we knew it would rock. And rock it most certainly did.
With thirty bands in six different pubs Hanwell was absolutely buzzing last night.
After the official speeches - fortunately not too long - the music began.
We managed to get round most of the venues and without a shadow of a doubt there was some excellent music - live and loud, as it should be.
Highlights for me start right at the beginning - a fantastic opening set from locals 'I Love Thunder'.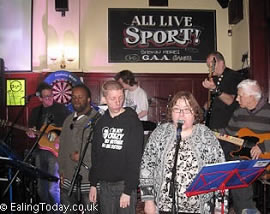 The band formed several years ago as a project run by Ealing Mencap and have gone from strength to strength. The members - ranging in age from 16 to 67 – each have some form of learning disability.
With covers of Whiskey in the Jar, Mustang Sally and Johnny B Goode they had the Kings Arms audience (including MP Steve Pound) up, dancing and shouting for more.
At the Prince of Wales 'Felix Hagan and The Family' played to an absolutely packed house, and were brilliant.
I couldn't get near them so apologies on the photo below but take my word they were good - very, very good.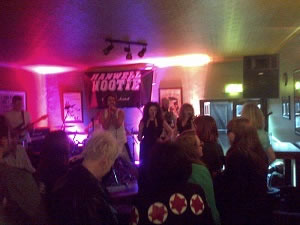 They reminded me of the B52s, a quirky and original sound and I imagine (as I couldn't get close enough to see for myself) it would have been a great performance from Felix.
This was really high calibre stuff, and I for one hope they come this way again.
A bit of fresh air was needed after all that excitement and we took a walk to The Fox Pub where we caught the end of an accoustic set by Jingo which seemed to have gone down well too.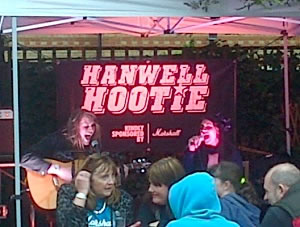 Next stop - Duke of York.
I've seen The Chairs on a few occasions now - and they never fail to please and I think they epitomise what the Hanwell Hootie is all about. Loud, rocking and just great music.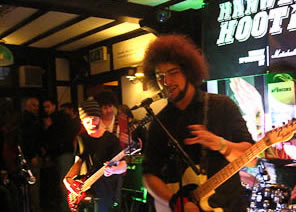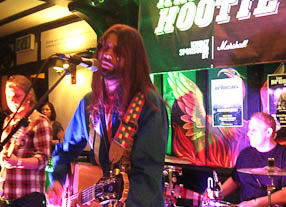 The Chairs followed by Et Tu Bruce - another local group
It was a night I wish I could have cloned myself and seen more bands in more pubs, but sadly there are limits as to how many bands you can get around.

The Hootie Band with Terry Marshall at The Inn on The Green was the cherry on the cake ending our wonderful musical night, but I'm sure the music went on.
Maybe it was just seeing the Marshall amps but I reckon Jim -the Father of Loud himself - was looking down and rocking along with us all last night.
It's hard to believe this is only the second ever Hanwell Hootie, it already seems firmly established. A lot of work goes on behind the scenes to make it the sucess it is, so credit must go to all those involved.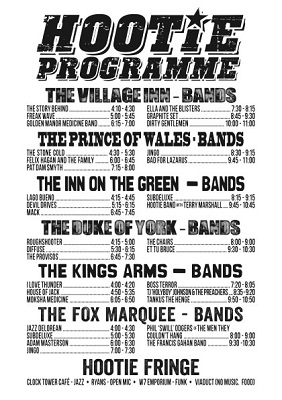 Rumour has it that it will be even bigger next year and held over two days. More great music to look forward to.
Here's to Hanwell Hootie 2015!
Annemarie Flanagan
You can view some excellent Hootie photos - here (copyright Paul James)
Were you there? What were your highlights?
6th April 2014