Meet your neighbours and share a drink in 'Stage Six'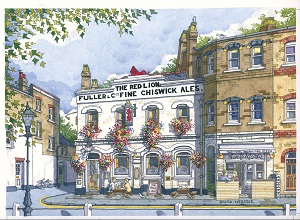 (The Red Lion, Ealing Green" by artist David Webster)
The award winning Red Lion pub (also known by its nickname 'Stage Six)' will be hosting the regular Ealing Tweetup next week and there'll be warm, spicy mulled cider and crostinis on offer.
The Tweetup is an informal social media networking event that brings together a diverse range of (mainly) local business people, politicians, mums, bloggers, journos, digital industry types and other interesting characters from many walks of life.
The Red Lion has long functioned as the unofficial Ealing Studios' bar. During the heyday of in the 1940s and 1950s, the Red Lion was affectionately nicknamed "Stage Six", so popular was it with film personnel – including Ealing's roster of great character actors like Alec Guinness, Sid James and Peter Sellers. The whitewashed pub, just across leafy St. Mary's Road from the studio, remained popular when the BBC took over in 1955.
Times have changed and, although the now independent studio is once again producing theatrical features, the era of the boozy working lunch is long gone. Nonetheless the pub remains popular and attractive, with lots to offer besides the heritage that helped it claim a place among Britain's top 100 "Famous Pubs", as named by the Daily Telegraph in 2011.

Inside it's smallish, cosy, warm and woody, with a particularly attractive old-fashioned front bar equipped with a fireplace, aged booths and big wooden tables. At the side there's a welcoming snug, with a more modern, very comfy extension at the back leading out into a sizeable sheltered and secluded beer garden. Memorabilia on the walls, includes posters and production stills from some of the most celebrated British films ever made.
When Tuesday, 19 January 2016 from 19:00 to 23:00 (GMT) - Where The Red Lion - 13 St. Mary's Road. Ealing. London W5 5RA G
Everyone is welcome register here
13th January 2015