To see 'Radio Times' performed by Theatre West Four
Related Links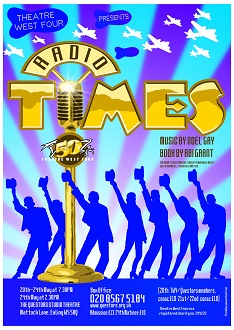 RADIO TIMES
from Tuesday 20th to Saturday 24th May, including a Saturday matinee
Questors Theatre, 12 Mattock Lane, W5 5BQ
For tickets go to the website
or call box office: 020 8567 5184
Participate
Sign up for our free newsletter
Comment on this story on the
Chiswick based theatre company, Theatre West Four, is celebrating their golden anniversary with the uplifting and colourful musical, Radio Times. HRH the Duke of Gloucester, who is the company's patron, will be attending the show on Thursday 22nd May to mark their achievement.
Set in London's Criterion Theatre during the blitz of 1941, Radio Times follows the ups and downs of the cast of Variety Bandwagon, a BBC light entertainment show broadcasting for the first time, live, to America.
With unrequited love, missing cast members and the disruption of the arrival of a Hollywood star, to say nothing of an air raid to interrupt their broadcast, this heart-warming show incorporates the music of Noel Gay including timely classics such as Run Rabbit Run and Who's Been Polishing the Sun, and was originally devised by Gay's grandson, Alex Armitage.
For fifty years Theatre West Four has been staging amateur productions in West London. Members come from all over London to participate in readings, workshops, rehearsals and productions. The group welcomes enthusiasts interested in performing, directing, producing, stage management and all aspects of theatre production.
29th April 2014