Questors Theatre presents 37 plays and sonnets - in an hour and a half
Related Links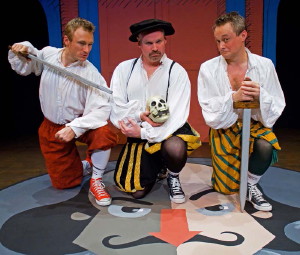 Alas, poor Yorick...
The Complete Works of William Shakespeare (abridged)
The Questors Theatre, in the Playhouse
March 9-12, 15-19 at 7.45pm
March 13 at 2.30pm
A Questors video, "Backstage with Shakespeare", takes you behind the scenes of the production.
Participate
Sign up for our free newsletter
Comment on this story on the
Ever wanted to catch up on the Shakespeare that you never quite got round to seeing?
The Questors Theatre in Ealing is offering you a chance to experience all of the Bard's 37 plays, plus the sonnets, in a mere hour and a half.
All presented with a cast of three.
The result is a wildly funny theatrical compilation that zips along at breakneck speed.
Purists may recoil in horror, and the playwright is probably spinning in his grave, but Shakespeare has never been such a laugh.
You might not want to suggest this in Stratford, but some people think Will's comedies were never that funny.
This, on the other hand, is hysterical...even the tragedies. It just needed a team of modern writers to pull together the really good stuff.
As one reviewer said, "If you like Shakespeare you will like this show. If you hate Shakespeare you will love this show!"
The three Questors actors who have formed themselves into the Abridged Shakespeare Company are Mark Fitzgerald, Will O'Connell and Scott Drummond.
Mark, who is also directing the production, says it has long been an ambition of his to appear in this play.
"This is where my love of Shakespeare started," he says.
"I originally saw this play more than twenty years ago in Edinburgh and it blew me away. If you are looking for a show to switch children on to Shakespeare, then this is it. It is fast, funny, and a true rollercoaster of a ride.
"All the plays are covered, sort of, some in glorious technicolour and some in one word. All in 97 minutes."
The show has proved to be a global phenomenon, setting a record for the longest-running comedy in the West End. When the play became available to Questors this year, the company seized their opportunity.
In anticipation of heavy local demand, the theatre has scheduled an extended run of ten performances, beginning on March 9.
If you haven't seen it yet, Shakespeare will never be the same again.
Watch out for the shark...

08 March 2011