New show at The Questors
Related Links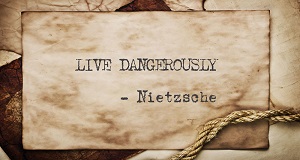 The Questors present Rope by Patrick Hamilton.
Suitable for ages 16+. Smoking and loud bang.
Rope is presented by special arrangement with SAMUEL FRENCH LTD
Participate
Sign up for our free newsletter
Comment on this story on the
If you have sorted your annual panto with the family, and now you're looking for something completely different?
The Questors Theatre has the perfect panto-antidote to all the festive sugar, by spicing it up with the classic murder thriller Rope by Patrick Hamilton.
Written in 1929 the play made Hamilton's name and was adapted into a celebrated film by Hitchcock in 1948. It tells the macabre tale of two well-bred Oxford students, obsessed with German philosopher Nietzsche, who kill a fellow undergraduate just for kicks. They hide the body in a chest and proceed to host a party for his friends and family with the chest containing his corpse used to serve a buffet.
One murderer is elated by his deed, and the other slowly disintegrates before our eyes. And the tension of this cruel and brilliant play is complete when one of the guests, the coldly witty and aesthetic Cadell, becomes suspicious. Throughout the play there are brilliant turns of the dramatic screw, not least in the final scene when the party seems to be over, but the night is far from finished...
This grippingly unpleasant entertainment for Christmas is a definite Don't Miss in the Questors season, and is showing in the smaller Questors Studio from 17 December.
Rope runs 17–31 December in the Studio at The Questors Theatre.
Tickets £13.00 (£12.00 conc, £7.00 under-16/student), final Fri/Sat £15.00 (£14.00 conc, £8.00 under-16/student), Bargain Tickets £6.50 on 17 December
Buy tickets online from www.ealingtheatre.com
17th December 2014