New Questors production of Peter Shaffer's play this month
A boy has been convicted of brutally blinding six horses in a violent fit of passion.
Peter Shaffer's 1975 Tony Award-winning play follows psychiatrist Martin Dysart as he tackles the disturbing case of Alan Strang. As Dysart begins to unravel the circumstances behind these distressing events he finds his skills stretched to the limit and his own values challenged.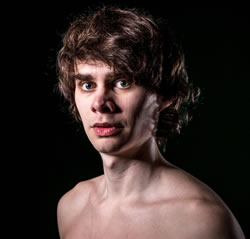 (Nick Thomas in Peter Shaffer's Equus)
The Questors production of Equus runs 11–18 April in the Judi Dench Playhouse at The Questors Theatre. The play was revived successfully in the West End in 2008 with Daniel Radcliffe as Strang and Richard Griffiths as Dysart.
Equus is directed for The Questors by Simon Rudkin: "It's a thriller. Shaffer holds the tension beautifully. There's not a wasted moment, not a wasted word. It is a fantastic piece of writing."
Simon relishes the challenges Equus presents: "What could drive a person to commit that sort of crime? That's what Shaffer is exploring."
Nick Thomas, pictured, plays Alan Strang. "He's a very awkward seventeen year old boy. He doesn't get on well with people." The part calls for the actor to appear naked in one scene. "It's impossible to be more open and vulnerable," says Nick, "than to be alone and naked on stage, playing a character who tries to hide his vulnerabilities to the extent Alan does. The play is fascinating and it's shaping up to be absolutely fantastic. A real feast."
John Dobson, a Questors member since 1981, plays Martin Dysart. "Dysart is having doubts about the validity of his work. He has given up on the world, he feels he hasn't really lived. And then Alan is brought to him. He goes on a journey with the boy and discovers a lot more about himself. It's a thumping good story, full of surprises."
Equus is suitable for ages 16+. It contains theatrical violence, explicit sexuality and nudity, and smoking.
Equus is running 11-18 April at 7.45pm, with a Sunday matinee 12 April at 2.30pm.
Tickets: £13, £12 concessions, £7 under 16s/students. Final Friday, Saturday tickets for £15, £14 concessions, £8 under 16s/students.
To book tickets and for more information about getting involved with Questors, see www.ealingtheatre.com

1st April 2015