The legend you know. The tale you don't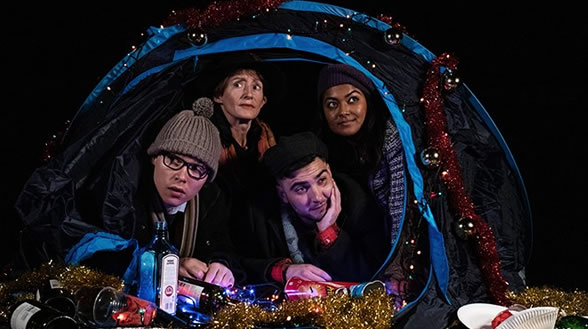 Robin Hood at The Questors
This year's Christmas panto at the Questors Theatre in Ealing is Robin Hood.
With a script by Ben Crocker it is being performed by Ben Crocker. These pantos are usually very popular so you are advised to book your tickets quickly.
Under the Great Oak in the heart of Sherwood Forest lies, Robin Hood, the finest archer in the land. Aided by sidekicks Friar Tuck and Little Joan, the notorious – yet charming – outlaw plots to steal from the rich to give to the poor!
When the man in green meets warm-hearted dame Maid Marion who is on the run from the Sheriff of Nottingham, can they escape his devious and cunning scheme to claim a fortune? Or will the wicked villain, beastly and cruel, capture them both in the One-doored Tower of Doom?
It promises to be a magical adventure in a fun, laugh-out-loud traditional family panto. Sing along and boo and hiss at the horrible sheriff – if you're brave enough!
The production is on until New Year's Even with ticket prices at £7-18 with opening night child tickets £5, adult tickets £8. The Box Office number is 020 8567 5184
Full details and online booking
Please note that the 1:30pm showing on the 22 December is a relaxed performance. A relaxed performance is one that has been specially adapted to meet the needs of people who may find it difficult to attend a more traditional performance. The usual rules of sitting still and being quiet don't apply and there is an informal atmosphere and allow people who may need to move around, make noise or take a break the chance to come to see a show without worrying. Often, people who have an autism spectrum condition, a learning disability or communication difficulties find these performances especially welcoming.

December 11, 2019