The Homecoming at Questors Theatre
Related Links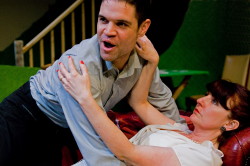 Anthony Steele and Alex McDevitt in The Homecoming at The Questors Theatre, Ealing, 23-30 January,(Photo by Richard Mead)
Details and tickets from the Box Office on 020 8567 5184 or www.ealingtheatre.com
Participate
Sign up for our free newsletter
Comment on this story on the
When playwright Harold Pinter died just over a year ago, theatres in the West End and on Broadway dimmed their lights. He was one of the greatest dramatists of the twentieth century, and just three years earlier had received the highest honour of all, the Nobel Prize for Literature.
Now The Questors Theatre in Ealing are staging one of his most popular plays.
"The Homecoming" is a darkly comic drama of conflict and infidelity in a male-dominated North London family. When the eldest son Teddy returns from teaching in an American university, the appearance of his wife Ruth releases sexual rivalry between the brothers.
"The Homecoming"
opens in the Playhouse at The Questors Theatre
on Saturday January 23rd at 7.45pm and runs for a week.

January 20th, 2010