Questors studio 28 January - 5 February
Related Links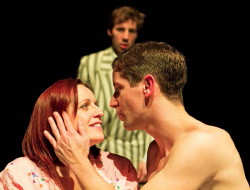 Marge (Victoria Butler) and Dickie (Pedro Pinhal)
with Tom (Dan Martin) looking on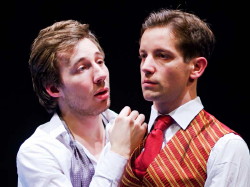 Tom Ripley and Dickie Greenleaf (Pedro Pinhal)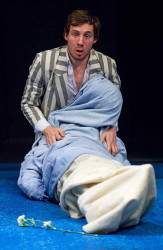 Tom Ripley (Dan Martin)
Photos Peter Gould
Participate
Sign up for our free newsletter
Comment on this story on the
By Phyllis Nagy, adapted from the novel by Patricia Highsmith

This psychological thriller is an adaptation of Patricia Highsmith's novel, which many people will know from the 1999 film version directed by Anthony Minghella.
Tom Ripley is a young man who is finding it difficult to survive in the 1950s. He is approached by a wealthy shipbuilder who believes him to be a friend of his wayward son, Dickie. The father asks Ripley to go to Italy to persuade Dickie to return to the United States.
But Ripley is a young man of cultivated tastes, and when he makes the journey, he quickly discovers he likes Dickie's lifestyle. And as a psychopath, Ripley will go to any lengths to acquire the trappings of wealth and success enjoyed by Dickie.
This is an intelligent thriller that will have you on the edge of your seat. Are we repelled by the devious and calculating Ripley? Or do we secretly want him to get away with his deadly plan?

With Dan Martin as Tom Ripley, Pedro Pinhal as Dickie Greenleaf
and Victoria Butler as Marge Sherwood.


1st February 2011