Questors Theatre from January 22nd
Related Links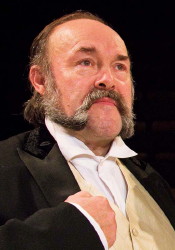 Anthony Curran - Henry Hobson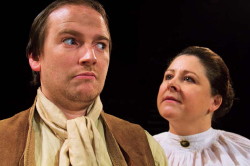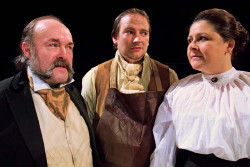 Anthony Curran (Hobson), Iain Stirling (Willie) and Kerri Logan (Maggie)
Photos Peter Gould
Participate
Sign up for our free newsletter
Comment on this story on the
This powerful drama is set in Salford in the1880s, but its portrayal of family relationships is timeless.
At the heart of the story is Henry Hobson, the irascible owner of a boot shop, who spends far too much time holding court in his local pub while his three daughters are left to look after the customers.
As Hobson tells his drinking companions, it is the daughters who are the problem. They have reached an age when they want to get married and enjoy some independence.
Their penny-pinching father is horrified at the potential cost of providing a dowry for the three daughters, and tells them flatly that there will be no wedding bells. That sets up the conflict that runs through the play.
The eldest daughter, the strong-willed Maggie, decides to force the issue. She tells their shy boot-maker, Willie Mossop, that he is the man for her, and marches him off to start a rival business.
Can Hobson's business survive? Or will he be out-foxed by his scheming daughters?

The writer, Harold Brighouse, took the title of his play from a much older expression. "Hobson's choice" is shorthand for a choice that isn't really a choice at all. "Take it or leave it" is what Maggie ends up saying to her father.
Anthony Curran takes on the part of the bullying Hobson, a role made famous by Charles Laughton in the classic film version, directed by David Lean.
In the Questors production, the three daughters are played by Kerri Logan, Sherralyn Croft and Liz Jardine Smith, who appeared together in the recent Questors production of Ladies' Day.
Iain Stirling is Willie Mossop, the tongue-tied boot hand whose life is transformed by marriage to Maggie.
The cast is completed by Paul Francis, Ann Sawbridge, Claire Reid, John Hynes and Andrew Hill, plus two actors new to Questors, Neil Cahill and Dylan Fryer.
Steve Cowan, a member of the production team, says there are good reasons why Hobson's Choice remains one of Britain's favourite plays.
"It is based on a number of perennial themes," he says. "What do older parents do with their younger children? What is ambition and where are people going in their lives?
"It also deals with social class and status. The play may be a hundred years old, but there are things in it that people will respond to today. I think there is a lot here for audiences to enjoy.
"Harold Brighouse has written a very powerful script, and it needs a very strong cast, which our director Francis Lloyd has assembled."
Hobson's Choice opens in the Questors Playhouse on January 22 - January 29th
January 19, 2011