Will to Win and QPR in partnership at fun day
Related Links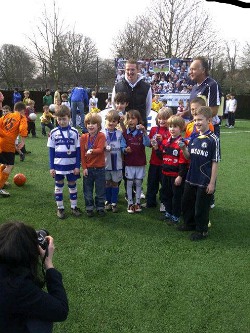 photo from Will to Win on twitter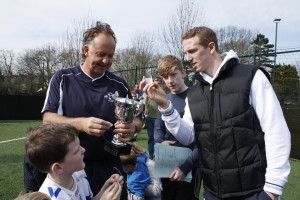 Ramage draws prizes with Steve Riley, Will to Win Director
Photo credits - Christine Walsh
Will to Win Ealing Culmington Road, London W13 9NJ Tel: 020 8840 0888
Participate
Sign up for our free newsletter
Comment on this story on the
QPR defender Peter Ramage met young football players and fans as he helped launch the new partnership between Queens Park Rangers Community Trust and Will to Win Ealing. The new partnership kicked off with a Kids Football Fun Day at Will to Win's community sports centre at Lammas Park, Ealing on Saturday.
"It's nice for me to come and be able to support what the QPR Community Trust is doing with Will to Win Ealing and to meet the next generation of QPR fans," said Ramage, 27, who is off the pitch at the moment while he recovers from a knee injury.
"It's hard being injured but it does give you a chance to come to events like this and see kids getting out and about and involved in activities, playing football and generally just enjoying themselves."
Families from all over the borough flocked to Will to Win Ealing on Saturday morning and took part in a range of fun football activities, including 'crossbar challenge', penalty shoot-outs, a five-a-side tournament and a free prize draw. The day marked the start of a new partnership which will see QPR bring its coaching expertise to Will to Win Ealing's extensive kids' football programme.
QPR's Football Outreach Development Officer Dave Robinson was delighted with the Kids Day and relished the chance to see so many local youngsters showing off their football skills.
"Ealing has always been an area where the Club has had good support and we're looking to build that even further through working with Will to Win," said Robinson. "Our whole objective here is to build a stronger link with Will to Win and the Borough of Ealing. We've got a good fan base down here and we want to engage kids of all ages and eventually work with some adults as well – which is something we've been successful at in other areas."
Will to Win Director Steve Riley was equally enthusiastic. "It was a fantastic day for everyone and that's exactly what Will to Win is all about – bringing top level sport to the community and making it accessible to everyone," he said. "The partnership with QPR is going to allow us to bring professional coaching to Ealing's kids and it's great that we were able to celebrate that with such a successful day."
13 March 2011