OPEN Ealing presents - Wednesday 18th April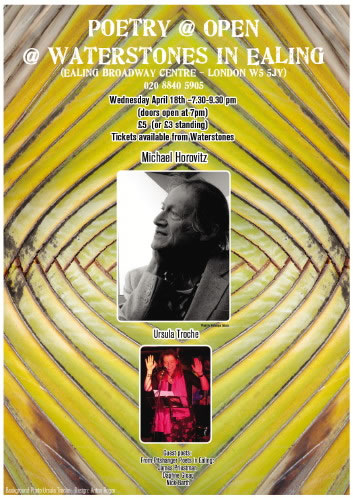 'Once described by Allen Ginsberg as a "popular, experienced, experimental, New Jerusalem, Jazz Generation, sensitive bard". He performed alongside Ginsberg, Corso, and Ferlinghetti at the First International Poetry Incarnation which jam-packed the Royal Albert Hall in 1965'.
Quote from Torchbearer website at http://poetryolympics.com/torchbearer:
Poet, singer-songwriter, jazz and blues anglo-saxophonist …
"Mike Horovitz is a poet by calling, trade, impulse, habit and anything else you care to mention. Poetry for him is part of life, part of showbiz, part of walking down the street. I can remember him in Oxford in the early 1960s, hair threatening to knock his specs off, declaiming, challenging the audience to realise that Truth and Art were in the very air between them." (Miles Kington)
An early champion of oral and jazz poetry, whose flamboyant performances have energised every kind of audience on both sides of the Atlantic, Michael Horovitz has been variously described as: "an original poet, with an original voice" (Margaret Drabble); "a Cockney, Albionic, New Jerusalem, Jazz Generation, Sensitive Bard" (Allen Ginsberg); "a dreamer, a maverick … transmedial crusader" (Martin Amis).
Tickets £5 from OPEN Ealing (0208 579 5558) or from Waterstones in the Broadway Centre.
16th April 2012