Wednesday 14th March
OPEN Ealing had a successful launch with its poetry event last month and we are therefore following this up with a Belated International Women's Day Poetry Night on:
Wednesday, March 14 from 7:30pm - 9:30pm
Our guest poets are: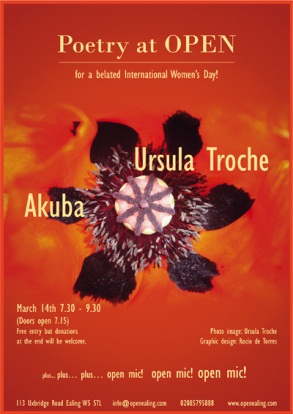 Ursula Troche - published performance poet, writer, speaker and photographer, founder of both the Acton Women's Poetry Group and the Harlesden Women's Poetry Group / Harlesden Poetry Hub. She has performed extensively in London, Nottingham and Oxford. Themes centre around social issues, women's issues/studies, multicultural awareness, identity, history, dialogue, human rights, psychology, self-development, philosophy / spirituality.
Akuba - Ghanaian- descended performance poet and storyteller has been performing and running poetry workshops extensively in London including at the British Museum since 1997. She was awarded "Aspiring Female Storyteller" by Black Women in the Arts, (2006 and 2007).
We will also be having an open mic. Don't forget to bring your own poems to share!
Free admission
Contact details:
David Highton
113 Uxbridge Road
London, W5 5TL
0208 579 5558
March 7th 2011