April - June Listings
Related Links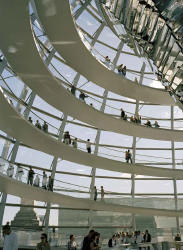 Image credit: Reichstag, Berlin, 2004 ©Raymond Depardon/Magnum Photos

At: PM Gallery
Walpole Park
Mattock Lane
Ealing
London
W5 5EQ
Phone: 020 8567 1227
Participate
Sign up for our free newsletter
Comment on this story on the
Exhibition: Cities
Date: 23 April – 20 June 2010
Opening Times: Tue-Fri & Sun 1pm-5pm & Sat 11-5pm
Artist: Raymond Depardon
The first solo exhibition in the UK by multi-award winning photographer and filmmaker Raymond Depardon.
'Cities' includes over 200 images capturing first impressions of life in some of the world's most fascinating and populated cities.

Free
Events
Panel Discussion
'Is There a Way of Approaching The Street?'
Friday 7 May at 7.30pm
Paul Halliday, Photographer and Goldsmiths Lecturer, will chair a panel discussion with the photographers Rut Blees Luxemburg, Simon Rowe and Nick Turpin that will explore the question 'Is There a Way of Approaching The Street?'. The event is informal and the audience is invited to participate. Doors open 7pm. Tickets: £5. Please call 020 8567 1227 to book.

Gallery Tour
Saturday 15 May at 2pm
Sophie Wright, Cultural and Print Room Director at Magnum Photos will lead an informal tour of the exhibition looking at Depardon's main themes and ideas. All welcome. FREE – just turn up.
Image credit: Reichstag, Berlin, 2004 ©Raymond Depardon/Magnum Photos

April 7th, 2010