Experience Pitzhanger in the 19th Century
Related Links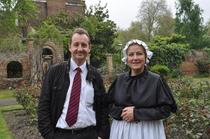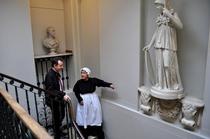 For more information and details on future tours please email pmgwalpole@ealing.gov.uk or call 020 8825 6742.
Participate
Sign up for our free newsletter
Comment on this story on the
Residents are invited to step back in time this weekend and join one of the free dramatised tours of the house and surrounding gardens on Sunday 9 June.
Guided by one of Sir John Soane's maids in replica dress from the 1800's, the family-friendly tours are the first of their kind at Pitzhanger Manor and will allow visitors to experience what life was like in the early 19th Century.
The historical tours will provide insight into one of Ealing's finest manor houses, with historical information and amusing anecdotes explaining how it made its mark in history.
In 1800, renowned architect, Sir John Soane, purchased the site and demolished most of the existing manor. He then set about building his own home, which he saw as an advertisement for his own idiosyncratic architectural style with its stripped classical detail, radical colour schemes and inventive use of space and light.
Councillor Julian Bell, leader of Ealing Council, said: "I encourage residents to take advantage of our free heritage tours, as it's a great opportunity to get a glimpse of life in the early 19th Century whilst learning about the fascinating history of Sir John Soane's family manor."
Tours will depart from Pitzhanger Manor, beginning at 1.30pm and 3pm on 9 June and will run for around 45 minutes. The whole family is welcome but the tour will be most enjoyable for children aged six and over. More tour dates and times will be announced soon.
4th June 2013