Move over Susan Boyle and Diversity there are new kids on the block
Participate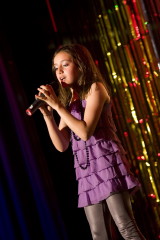 Holly Wilks
Clementine Medforth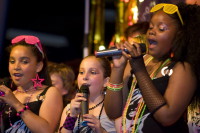 Sisters With Attitude
Photos courtesy of Richard Gregory Photography
Pitshanger Popstar is now in its fourth year and has become so popular with the local youth there wasn't a venue in the local area big enough to hold this year's Semi Finals.

So, last Saturday (13th June) everyone decamped to the Students' Union at Thames Valley University where 30 young singers supported by a huge crowd of family and friends, brought the house down.

The five finalists were:

Under 11's category

Holly Wilks (9) from Montpelier Primary School

Under 16's category

Clementine Medforth (14) from Notting Hill Girls School

Groups category

Shquanna Henry, Abaigael Desa and Louisa Haslam in the group 'Sisters With Attitude', all aged 11 from Hathaway Primary School

The judges also chose two wild card contestants to go through to the final. They were Lydia Altman, 11, from Notting Hill Girls School and 12 year old Matilda Tucker from Elthorne Park High School.
Although he didn't make it through to the finals, the judges also praised 11 year old Donovan Cope from St Gregory's Primary School who was the only boy to take part in the competition.
With his Elvis style quiff, leather jacket and dance moves, Donovan's 'Jail House Rock' left everyone in the audience wanting more.

The five finalists will perform at Pitshanger's Party in the Park on Sunday 28th June to win a day in a professional recording studio
June 17, 2009