Paralympic flame will take pride of place at arts show tonight
The hills of Northala Fields will be transformed by light and sound tonight as the borough welcomes the Paralympic flame.
Marking the journey of the flame upwards towards the heavens the special show, produced by Environmental arts group Red Earth and Arts Agenda, is part of the free Mayor of London Presents programme.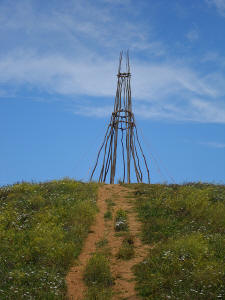 The show features natural towers built from coppice wood sustainably felled in nearby Horsenden Hill.
The towers are said to be 'inspired by world architecture, by the skyline of mosques, temples and towers visible from the hills, and the minarets of Ghazni and Jam in Afghanistan. They represent a gathering of cultures and mark our connection with the four corners of the earth.'
'NORTHALA' evokes the past and celebrates the future, as Northala Fields becomes, briefly, the centre of the world.
Read all about it here
It starts at 8pm.
24th August 2012