Dick Whittington at The Questors Theatre
Related Links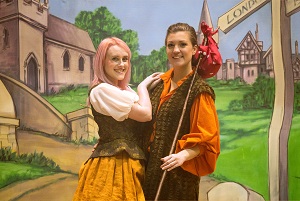 Claire Durrant and Georgina Parren in Dick Whittington & His Cat at The Questors Theatre
(Photo: Carla Evans)
Participate
Sign up for our free newsletter
Comment on this story on the
The Questors Theatre is back with Ealing's very own pantomime. Visit them in central Ealing and enjoy the adventures of Dick Whittington and his cat (and double entendres, for the grown-ups!).
This traditional family panto follows Dick Whittington to London Town where he's looking to make his fortune, with the aid of his trusty cat Tommy. But will he find work? Will he win the heart of the beautiful Alice Fitzwarren? And after everything, will he save the day?
The Questors Theatre's production of Dick Whittington & His Cat runs from 12 December to 2 January, with family-friendly performances at 7pm and afternoon matinees throughout the run.
"Ooh, it's all quite exciting," says Sarah the Cook, currently employed by Alderman Fitzwarren. "There's this lovely new hunk about town, and I think he's taken a shine to our Alice. Of course, he doesn't measure up to my Fitzy - phwoar..!" (At this point, Fitzwarren was seen running from the establishment.)
Come and sing along to sensational songs like Uptown Funk and Disney classics Love Is an Open Door and Under the Sea.
The Questors production features a fabulous cast and creative team, as well as many talented members of the Questors Youth Theatre from ages 8 to 18.
Tickets are selling very fast. So book yours quickly! You can book online at ealingtheatre.com or phone the Questors Box Office on 020 8567 5184.
The Questors present
Dick Whittington & His Cat by Ben Crocker
in the Judi Dench Playhouse at The Questors Theatre, Mattock Lane, Ealing W5 5BQ
12, 15-19, 21-23, 28-30 Dec, 2 January at 7.00pm; matinees on 12, 13, 19, 20, 27, 28 Dec, 2 January at 2.30pm; special New Years Day performance on 1 January at 4.00pm
Tickets: SAT 12 - FRI 18 DEC: Adult £14, Child £7, Family (2 adult + 2 under-16) £38; SAT 19 DEC - SAT 2 JAN: Adult £17, Child £8, Family (2 adult + 2 under-16) £46
Full details and online booking: www.ealingtheatre.com
Box Office: 020 8567 5184

December 10th 2015