Ecclesiastes to be performed at St Barnabas Church
Ealing's St Barnabas Church will play host to a musical world premier at the end of this month.

Computer programmer, Graham Andrew, will conduct his oratorio 'Ecclesiastes'.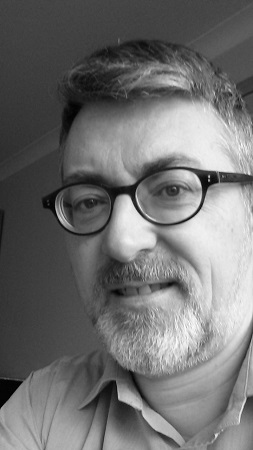 Fom his early twenties onwards Graham has sung bass in a variety of choirs, including Ealing Choral Society. He describes himself as 'a self-confessed computer geek' and says when composition software became available he downloaded a copy and started 'fooling around'. He created the song cycle, A Christian Journey, and now an oratorio.
Graham writes: The Old Testament book of Ecclesiastes is an oddity in biblical terms. It contains no stories, no prophecy, no rules for a godly life. It is an essay on the human condition which attempts to reconcile philosophy and faith. To fill this space, the composer has embellished the philosopher's time as king, linking the philosophical sections with the story of an 'everyking'. The king's story is told in flashback to link the biblical writer's commentary on life and God.

The tenor soloist plays the role of the king, while the baritone plays the philosopher. For the sake of balance and variety, a queen is added to the mix.The mezzo-soprano soloist takes on some of the philosphical arias and jousts with the philosopher on the subject of relations between the sexes.

This oratorio is in two parts and each part will take about forty minutes to perform.

It is intended for performance in a concert hall or large church, preferably with a large chorus and orchestra.The first performance will use a reduction of the full score for piano (four hands) and percussion.
It will take place at 7.30pm on 30 July 2016 in St Barnabas Church, Ealing, W5.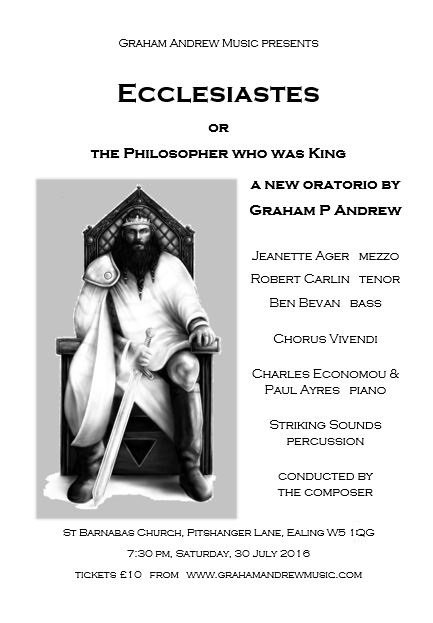 For more details see www.grahamandrewmusic.com
6 July 2016