Jack Honeyborne performs this Saturday
Related Links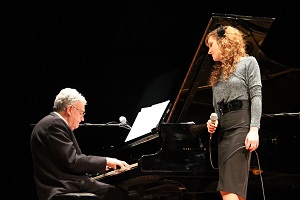 Jack Honeybourne and Stefania Salvador
Date: Saturday 28th February 2015
Time: 6-10pm – dinner served 6-7.30 pm, music from 7.30
Where: Green Man Lane Café, Singapore Road, West Ealing W13 0EP
Admission: £8/ concs £6 / GML residents £4.
Participate
Sign up for our free newsletter
Comment on this story on the m
Local jazz piano legend Jack Honeyborne and singing partner Stefania Salvador will be headling a special evening of music at OPEN Ealing this Saturday (28th Feb).
Jack is well known around the borough, a long-standing stalwart of the Ealing Summer Jazz Festival who performs regularly in and around Ealing and at the Spice of Life in Soho.
Jack's career goes way back. He was Vera Lynn's music director for 20 years, in the 50s, he played with many of the popular dancebands, including The Squadronaires (with Who guitarist Pete Townshend's dad!), the Joe Loss Orchestra and Nat Gonella and his Georgians.
Jack has also worked with Eartha Kitt, Sammy Davis Jr, Harry Secombe and Peggy Lee. He even appeared playing the piano nude in the 1964 Peter Sellers film A Shot in the Dark, and latterly featured – clothed - in the Dustin Hoffman films Quartet and Esio Trot. A true music legend who has lived in Ealing for the last 46 years.
Jack has been working with up-and-coming singer Stefania Salvador ever since she arrived in Ealing from her native Italy in 2011. A classically-trained pianist herself, Stefania can turn her hand to any number of styles – jazz, French chansons, the Great American Songbook, and popular songs in several languages including, of course, Italian.
Jack will treat the audience to a few stories and anecdotes from his long career – and a highlight of the set will undoubtedly be one of Stefania and Jack's legendary "four hands" pieces on the piano!
OPEN has also lined up a great support act. Doc Stenson is also a long-time Ealing resident (he lives up the road from Jack!) and is a well-known singer-guitarist on the folk and blues circuit, a master of genres from country and city blues to ragtime, old jazz, bluegrass, Irish and Tex-Mex. Vintage Americana is his bag. And he plays a mean harmonica too. During his long career he has played with blues artistes such as Lowell Fulson, Eddie Cleanhead Vinson, Brownie McGhee and Lazy Lester. He's a bit of a musicologist too, and will no doubt take you on a journey with a few of the numbers he has tracked from Scotland and Ireland way up into the Appalachian Mountains, where Celtic jigs and reels changed their names and became old-timey fiddle tunes.
It promises to be a fine evening of music that crosses the genres – from jazz to blues, Parisian melodies to hillbilly two-steps, possibly even a bit of classical. And everything in between.
To book – and to see the menu - go here: http://www.openealing.com/events/music-saturday/
24th February 2015