First ever evening business event was great success
Related Links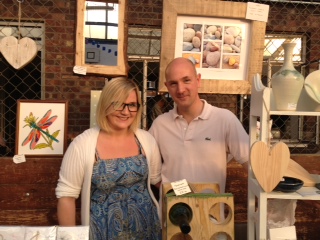 FionaMitchell and Trevor Halliday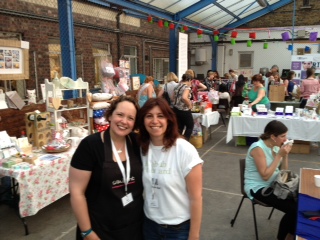 Erin Thomas Wong and Shelley Henderson
Participate
Sign up for our free newsletter
Comment on this story on the
Over 500 people turned out, on a very hot and clammy evening, for the first Northfields Night Market on Saturday.
Over 30 local businesses took part – showcasing crafts, jewellery, food and cosmetics. The market was organised by 'Ealing Mums in Business' - a forum established in 2010 by Shelley Henderson and Erin Thomas Wong.
Erin told me "We already run bi-annual Family Fairs and thought this would be fun to try. We've been amazed and overwhelmed with the support we've had from the local community"
It looked lovely – with coloured lanterns lighting the outside- smelled lovely with Moroccan and Indian food available. And a local jazz combo – M.D.F. played unobtrusively in the background.
I had a very relaxing chiropractic session – which I expected to pay for – but it was free!
One local business there was 'Love Handmade' in Northfields Avenue – where Trevor Halliday and Fiona Mitchell sell not only their own crafts and upcycled furniture but also stuff for other local craftspeople who wouldn't be able to afford to rent a shop. "I think tis is a great idea said Trevor- we are now selling items for over 80 other people as well as ourselves"
I left at around 9.30 and the hall at the Methodist church was still buzzing.
"We hope to run another one at Christmas" said Shelley,"and with the way it's gone tonight it's entirely possible"
Viv Ellis
10th July 2013