Save Our NHS campaigners travel North
Related Links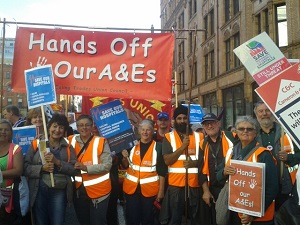 Photo shows Laura Southern (far left) Cathie Bjarnason, Sally Groves, Eve Turner, Eve Acorn, Andy Williams, Gurjinder Sandhu, Oliver New, Jean Fitzpatrick, Arthur Breens

Participate
Sign up for our free Ealing newsletter
Comment on this story on the

Ealing Hospital Campaigners took their message to Manchester on Sunday, to protest outside the Conservative conference.
Oliver New from Ealing Trades Council Save
Our NHS campaign said :

'Forty of us took a coach to Manchester to spread the message that people Ealing needs our proper hospitals. Others went to Manchester from Ealing by train and car. We'll keep on campaigning and go wherever we have to because we need local A&Es and other services, and we dont want our healthcare run for profits. Our NHS has always been the envy
of the world - it should be there for all of us, rich and poor."
2nd October 2013
September 25th 2013