Preloved baby goods ranging from clothing to pushchairs
The Ealing branch of the National Childbirth Trust, the UK's largest charity supporting parents is holding a nearly new sale on 18th May.
They represent a network of over 400 local households who are paying members of the charity.
Every year, there are two Nearly New Sales where preloved baby goods ranging from clothing to pushchairs and cots is on sale for a fraction of their original RRP.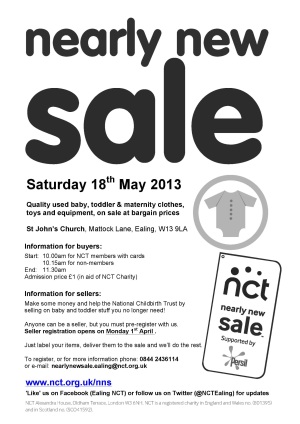 The cost of having a child can run into the thousands and they make it our priority to ensure that local families can afford all of the essential elements.
The sale takes place across the ground floor of St John's Church. The next Nearly New Sale is taking place on Saturday 18 May 2013 at St John's Church, Mattock Lane, Ealing, W13 9LA and features the Main Sale with 30+ vendors, a Large Equipment Sale, a bake sale & cafe with homebaked goodies and goody bags for all attendees.
8th May 2013