Take one picture exhibition
Related Links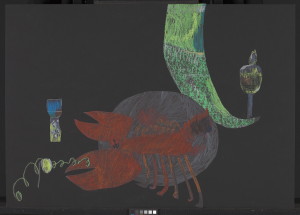 Caption: Artwork by Castlebar School, London © The National Gallery, London
TAKE ONE PICTURE
DISCOVER, IMAGINE, EXPLORE: CHILDREN INSPIRED BY WILLEM KALF
12 June – 22 September 2013
Annenberg Court (Getty Entrance)
Admission free

Participate
Sign up for our free newsletter
Comment on this story on the
An Ealing primary school will soon be showing off its artistic talent at the National Gallery.
Castlebar School in W13 has been involved in 'Take One Picture' - the National Gallery's scheme for primary schools.
Each year the Gallery focuses on one painting from the collection to inspire cross-curricular work in primary classrooms.
The challenge is then for schools to use the image imaginatively in the classroom, both as a stimulus for artwork, and for work in more unexpected curriculum areas.

A display of work produced by schools based on the painting is shown at the National Gallery, and a selection is published on the Take One Picture website.
In order to be considered for the display, schools submit examples of how a whole class or school has used the picture in a cross-curricular way to the Gallery's Education Department by a set date.

For this years display the focus painting is Willem Kalf's Still Life with Drinking-Horn (about 1653). More than 46,500 children and their families were involved in the project, from schools that range in size from 678 to just 16 pupils.
The painting has triggered a variety of exciting creative responses, including digital animation, dance and opera as well as painted works and sculpture.
Work from 25 schools from around the UK and as far afield as Turkey is featured , with outstanding works from an additional 30 schools encapsulated in a slide show.

Louise Tudor (Creative Development leader) from Castlebar school said: '' The whole school took part in the project and activities ranged from a visit to a local fishmonger , sculpture, modelling and cooking.
''The children and staff got really excited about the project and loved seeing their work displayed in our own mini exhibition which we held at school for parents, governors and local visitors last July. It is wonderful news that some of the children's work has been selected for display in the National Gallery.''
Paul Adair, Headteacher said: 'The Take One Picture competition/project has really captured the imagination of both children and staff. I am delighted that Castlebar is a part of this fantastic project and even more delighted that some of our children's pictures have been chosen to be exhibited in the National Gallery.'
8th May 2013