Don't miss concerts at St Barnabas in Pitshanger
Related Links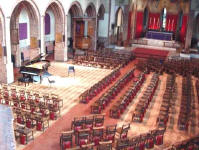 Participate
The St Barnabas Summer Proms 2009
This classical music festival is the largest ever held in Ealing, and consists of 9 evening and 3 lunchtime concerts, at St Barnabas Church, Pitshanger Lane, Ealing W5 1QG.
The evening concerts are on Mondays, Wednesdays and Fridays at 7.30 pm for 3 weeks, starting Monday July 20th, and ending with the 'Last Night of the Proms' on Friday August 7th.
They comprise famous works by popular composers, with many 'star' local musicians taking part, and provide perfect entertainment for summer evenings. No pre-booked tickets are necessary – just turn up ! All concerts are held 'in the round', with the audience close to the musicians.
Admission is £10 for all evening concerts, except for the Last Night of the Proms Gala, which is £15. All proceeds go towards the St Barnabas Organ Fund.
Full details are on www.barnabites.org/concertsproms.asp.
Week 1 : Here are notes on the concerts in the first week.
Monday July 20th at 7.30 pm : The Ealing String Trio (3 eminent Russian and Latvian musicians) and Hugh Mather (piano) perform Bach's immortal Goldberg Variations (arranged for string trio) and Mozart's wonderful piano quartet in G minor.
Wednesday July 22nd : 7.30 pm Kokila Gillett (violin) and Pavel Timofejevsky (piano) and friends play the Franck violin sonata, and Dvorak's piano quintet – two of the all-time great chamber music masterpieces
Friday July 24th : 7.30 pm . Viv McLean (piano) and friends play superb piano quartets by Brahms and Faure. Viv is one of the best young pianists in the UK, and he is bringing along some stunning musicians for this special concert.
There is also a concert on Friday July 24th lunchtime (1pm), when the Pirani Horn Trio play horn trios by Mozart and Brahms.
[Advance notice - you should all put Friday August 7th in your diaries – that's our Last Night of the Proms, which promises to be even better than last year !]
Hugh Mather
July 14, 2009