Concerts at St Mary's in Perivale and St Barnabas in Pitshanger
Related Links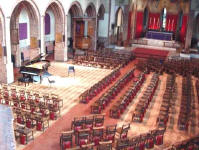 Participate
On Wednesday June 24th at St Mary's Perivale 7.30 pm we have the top prize-winners from the prestigious Royal Overseas League Music Competition.
The Gold Medal was awarded to a remarkable young flautist named Laura Lucas, who beat all the pianists, string players and singers.

I was at the finals, and she was stunning – easily the best flute playing I have ever heard ! We also have the Brodowski string quartet who won the ensemble prize, and they are playing a Mozart Flute Quartet with Laura Lucas, and lots of other lovely music.
This is a run-through for their Wigmore Hall debut – don't miss it. Our standards just get higher and higher.
Advance notice of the concert on Saturday June 27th by Ealing Symphony Orchestra at St Barnabas at 7.30pm.
I will play Brahms second piano concerto, in a concert which also contains Rachmaninov's Symphonic Dances. It's slightly embarrassing and very poor form to plug one's own performances, but at least the rest of the concert will be very good !
The St Barnabas Summer Proms 2009 are getting closer. They commence on Monday July 20th, and we have an excellent line-up of outstanding concerts.
You should all put Friday August 7th in your diaries – that's our Last Night of the Proms, which promises to be even better than last year !
Hugh Mather
June 20, 2009