'Night of Miracles'on Saturday 15th December at 7:30pm
In the absence of a 'community' choir locally, former Classic FM presenter, and now St Thomas's organist and choirmaster, Michael Mappin decided to see if there was any benefit in putting together a 'scratch' choir to perform John W Peterson's 'Night of Miracles'.
Why this particular work? "Well, it's fairly easy to sing -possible with a couple of decent rehearsals- and it is jam packed with good tunes.
"It's a Christmas Cantata for choir, soloists, narrator and piano, dating from 1958 and, according to the composer, is the story of "a Love which knows no bounds, is limitless and absolute and was first manifested on that wonderful night so long ago...a NIGHT OF MIRACLES". The miracle of 2012 is that so many singers (twenty eight so far but more singers are always welcome) have declared an interest in coming together for just two afternoon rehearsals to put on a performance.
The mood and story told by this piece of music will be a really meaningful and appropriate start to the Christmas season."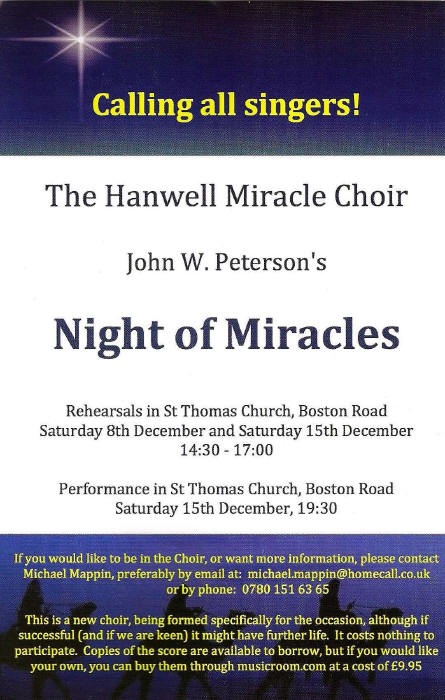 This one-off performance will be in the wonderful Grade 2 listed church of St. Thomas the Apostle, Boston Road, Hanwell on Saturday 15th December at 7:30pm.
Admission is free and there will be a retiring collection for The Childrens' Society, Refreshments will be available.
15th November 2012