Pictures based on the coats-of-arms of King John's barons
Ealing Autumn Festival's Magna Carta turns 800 painting exhibition is continuing its tour of libraries across the borough and also staging a number of open days.
Visitors have been admiring the Magna Carta turns 800 exhibition since it opened in June and the unique coloured paintings will be on show at various venues until the end of the December as part of this year's festival.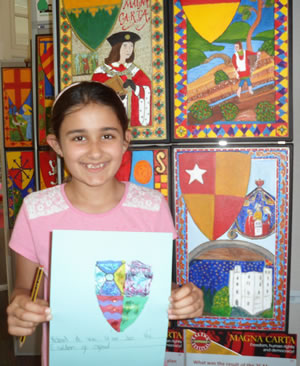 Priya Davies with her coat of arms at a recent Hanwell Library open day
The paintings are currently on display at Perivale Library, where an open day will be held on Saturday, August 29 from 2-3pm and Southall Library, where an open day will be held on September 5 from 11.30am-12.30pm with a number of Magna Carta related activities taking place at both venues.
The display then moves on to Northolt Library from September 7-26 and Pitshanger Library from September 8-26. An open day will be held at Pitshanger on September 12 from 2-3pm and Northolt on September 26 from 2-3pm.
The 26 paintings are based on the coats-of-arms of the 25 Magna Carta barons and King John and the exhibition has been put together by west London artist Diana Braybrook and her Hanwell based A4020 Art Group.
Further Magna Carta themed festival events planned for October include a poetry day, a concert by the West London Sinfonia Orchestra, a three-day visit by a Russian choir from St Petersburg and a celebration of Black History Month and The Big Draw in conjunction with Ealing Central Library.
For further festival details visit www.ealingautumnfestival.co.uk.
August 26, 2015