Betrayal, paranoia, murder.. what's not to love?
Related Links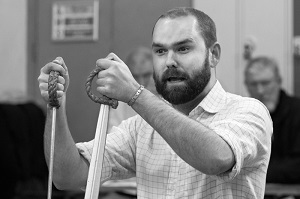 Photo by Carla Evans
Macbeth runs from 31 January to 7 February in the Judi Dench Playhouse at The Questors Theatre.
Tickets £13.00 (£12.00 conc, £7.00 under-16/student), final Fri/Sat £15.00 (£14.00 conc, £8.00 under-16/student)
Bargain Tickets £6.50 on 3 February
Buy tickets online from www.ealingtheatre.com, or phone the Box Office on 020 8567 5184
Participate
Sign up for our free newsletter
Comment on this story on the m
Local ArtsEd graduate Richard Graylin is taking on one of Shakespeare's most daunting roles, playing the lead in The Questors Theatre's new production of Macbeth.
Despite the mad and murderous ambition of Scotland's most infamous Thane, Chiswick-based Richard has been searching for the human side of Macbeth and his craving for power.
"It would be easy to play him as a two-dimensional psychopath who kills anyone who stands in his way, but the writing gives him so much more humanity than that," he says.
"I think we've all been in situations where we have made a decision the results of which then grow into something over which we have no control. You don't have to have entertained thoughts of regicide to know what it feels like to want something so much, you'd do anything to attain it."
Richard has been familiar with the play for many years, having, like many people, studied the play for his GSCE exams. But he thinks that the text and the dark, eerie world conjured up by The Questors' timeless production of 'the Scottish play' has a particularly fitting resonance in today's cultural landscape.
"At a time when stories of witchcraft and wizardry are hugely popular, it's no wonder that this play always finds a willing audience," he says. "It isn't hard to understand why a viewing public which loves Game of Thrones, Harry Potter or Lord of the Rings would find Macbeth appealing."
With a set evoking stark, brutal expressionism and an original, discordant score, the play promises to bring vibrantly to life Shakespeare's story of betrayal, paranoia and murder. And after several weeks of hard work in rehearsals, including time taken away from the turkey to memorise monologues on Christmas Day, Richard is increasingly excited about the production lined up for the end of the month.
"It has been extremely intense, but the dedication and professionalism of the cast (particularly its youngest members) and the directorial team have meant that an extremely tough job has been made less so," he says. "Particular credit has to go to the set designers, sound and lighting crew, who help to create the world around the characters."
28th January 2015