Eric Gilchrist Jazz Quintet, review
With a combined age of around 300 these 'boys' certainly have experience on their side.
The Eric Gilchrist Jazz Quintet feature a wealth of talent, all on show tonight.
It can't be easy having a gig on the night England play (and fortunately win) a major match, but tonight's (Wednesday 09/09) audience at the Rose and Crown in Church Place didn't care about the football, they were there for the jazz which was - nice.
The band, led by Chiswick's Eric Gilchrist, feature big names like Max Brittain on guitar, John Rees-Jones (guesting) on bass and Les Cirkel on drums.
Local Ealing legend 81 year old Jack Honeybourne on piano is a major draw, both as a musician and colourful character.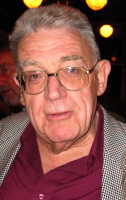 Jack has been playing piano for 74 years and has worked with practically everyone in show business including the likes of Peggy Lee, Sir Harry Secombe and Dame Vera Lynn.
He told me Eartha Kitt is one artist he won't forget (a force to be reckoned with by all accounts) - but he took her on and won her respect.
It's not just Jack who has worked with the stars, John Rees-Jones is from the Humphrey Lyttleton band, Max Brittain worked alongside Val Doonican for many years and drummer Les Cirkel has appeared on the Jools Holland show.
Unfortunately we could only stay for the first half of the set but what we heard we really enjoyed.
With a bit of imagination (and a glass of nice wine!) the music transports you from this friendly local pub to much warmer tropical places like Brazil with its swaying Bossa nova.
Eric makes playing saxophone look simple and has a singing voice reminiscent of ole blue eyes himself.
The whole band are relaxed and enjoying themselves - which makes us in the audience relax too.
I'm pleased to report that the Eric Gilchrist band are appearing at the Rose and Crown every month.
Hopefully we will make the full session next time.
VERDICT?
Accomplished, professional and a great night out - with the added bonus of it being local.
With great bands like this playing just round the corner who need to go into town?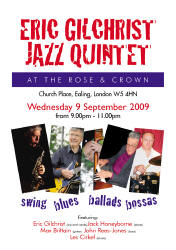 Annemarie Flanagan
September 10, 2009