Hosts beat rivals 82 - 0

On Saturday 18th October, Hanwell RFC faced off against S.O.D.A.M. RFC ( Science Museum and Overseas Development Administration) at their Boston Manor home, a place that is fast becoming a fortress, with the hosts having remained unbeaten at home this season.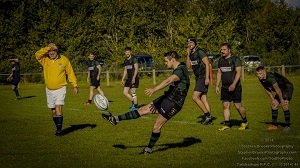 Image courtesy Stephen Brooks

The visitors were clearly struggling prior to the game, but with league points vital at this stage of the season, Hanwell were in no mood to go easy.

The hosts dominated the game from the kick off, scoring the first try within 30 seconds of the game beginning. This set the tone for a long afternoon for the visitors, who conceded 82 points without reply before the referee took pity and called the game on the hour mark.
Final score; Hanwell RFC 82 - S.O.D.A.M. RFC 0.

The win keeps Hanwell in fifth place within the Middlesex Merit Table, with next week's game against rivals and friends, the Whitton Lions.
23rd October 2014