Yellow armbands as Hanwell RFC play Hammersmith & Fulham
Hanwell came into this Middlesex Vase tie off the back of the club's biggest win in their short history.
The previous week's 57-5 win away to CSSC Barbarians had been a sign that Hanwell's backs have the ability to run the ball whenever the opportunity arises.

The visitors to Boston Manor for this cup game were Hammersmith & Fulham IV's, a team one division above Hanwell and who came into the game unbeaten this season.
The home side chose to wear yellow armbands during the game and tie yellow ribbons on each goal post, as a mark of respect to the family of Hanwell schoolgirl, Alice Gross.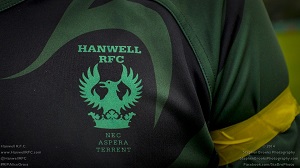 Emotions were high coming into the game, with Hanwell starting the game off the pace defensively and making uncharacteristic errors in their play.
Hammersmith & Fulham are a class act and needed little invitation to run the ball through their backs, which they did successfully to score two very early converted tries.

Falling 0-14 behind so quickly cleared the heads of the Hanwell players who had until then struggled to get a foothold into the game. With the rain still falling, the home side's forwards started to take the game to their opponents and slowly the home side made territorial gains up the pitch.

Good ball retention by the home side got themselves deep into the Hammersmith 22. With the visitor's failing to release the tackler, a penalty was awarded which flanker Michael Durkin took quickly to power over the line. A difficult conversion was missed and the game resumed with the scores 5-14 to the visitors.

Another series of good phases once again found Hanwell back in the visitors half. A good run from Ashley Chapman got him over the line for Hanwell's second score. With another difficult conversion missed, Hanwell were back in the game with the scores at 10-14.

With Hammersmith beginning to look tired at the end of the first half, it was surprising that the quality of the next score was so high. An excellent team move - started by the forwards and finished by the backs - saw the visitors extend their lead with a third converted try late on in the half, the scores at the break were Hanwell 10 - Hammersmith & Fulham 21.

Hanwell came out at the start of the second half with renewed fight in their bellies, taking the game to their opposition.
Fullback Kevin Falvey nudged a penalty deep into the Hammersmith 22 for a Hanwell lineout.
Captain Steven Nolan caught the lineout throw and formed a maul that the Hanwell forwards pushed over the line, with hooker John Bodman touching down to score.

Once again Hanwell had scored far out wide for an extremely difficult conversion, which unsurprisingly was narrowly missed.
With the scores at 21-15 and with time running out, but sides traded blows like a couple of heavyweight boxers trying to avoid the knockout blow.

With desperation beginning to set in, Hanwell launched yet another forward inspired attack, culminating in prop Peter Nolan handing off two Hammersmith defenders before crashing over the line to score for the home side, making the scores 20-21 with the conversion still to come.
Hanwell players gathered on the halfway line standing shoulder to shoulder, watching the vital conversion sail agonisingly wide of the posts.

With the referee indicating that the game would restart with just 1 minute left the play, the home side gathered the restart and began to make progress into the opposition half. Building phase after phase, the Hammersmith defence was stretched to the point where they halted the Hanwell attack illegally.
With the penalty awarded to the home team, the referee advised that this was to be the final play and that Hanwell could not kick for touch. Michael Durkin, thinking quickly, took the tap penalty and headed directly for the Hammersmith defenders, hoping to gain a further penalty for the visitors not retreating the full ten metres. However, in their rush to get back, two Hammersmith defenders turned their back on Durkin, who ran for the space between them.

With just the fullback to beat, Durkin opted to run over the defender rather than risk going around and he grounded the ball deep in the corner to give Hanwell a last gasp victory.
With the win already sealed, Kevin Falvey stepped forward to take the hardest conversion of the game, far out wide. This time, the ball flew straight through the centre of the yellow ribbon covered posts to bring a breath taking game to an end and put Hanwell through to the next round.

Final score - Hanwell 27 - Hammersmith & Fulham 21
October 6th 2014