Viv Ellis speaks to local band Gemma Rogers and The Mil Men
The third Hanwell Hootie is almost with us. This year there will be an incredible 45 bands playing at 11 venues in one crowded, bonkers night. Choosing which bands to see can be tricky, especially as the pubs get rammed really quickly.
Last year, for me it was Felix Hagan and the Family at the Pig (the Prince of Wales for non Hanwell-ites) who were the stars so I am chuffed they are playing again this year.
I am also really looking forward to seeing Gemma & The Mil Men. A really original, quirky act which she describes as "Storytelling with a twist. Folky, bit punky, bit lyric-y."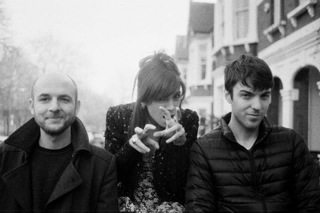 The 'Gemma" is Gem Stone who grew up in Hanwell but the band was formed when she was squatting in Queens Park. When they were broke she says they'd sit around and tell stories in the darkness "We couldn't afford candles either!" Those stories were all based on real-life events and are the basis for the music she performs. The band line up changes from gig to gig but at the Hootie, Gem will be joined by her brother Nick on guitar and Tom Hammond who is from a little village called Redbourn, on bass.
Gem told me she considers herself 'W7 through and through' "Hanwell was a great place to grow up, walking our dog, Banjo, in the Bunny Park. We knew all our neighbours and I loved the community feel of it. You knew who to get sugar off, who to avoid and who would make your Tiny Tears a new outfit. Of course as you got older, people knowing your mum meant that you got grounded once in a while but all in all, my two brothers and I had a brilliant time. I wrote a short play called The Hanwellites. It's being featured on a new phone app that the theatre company 'Paines Plough' is bringing out called, 'Come to where I'm from.'
Gemma went to a bilingual French school until she was 8 and then went to Christ Church primary school in Ealing & Twyford in Ealing Common. And the education continues… she is currently studying for an MA in applied theatre at the Central School of Speech and Drama. What's that like?"I thought I could wing it. but I can't. It's the hardest thing I've ever done. Sometimes I wake up crying thinking about my forthcoming dissertation. There goes my summer. I always want to be working in theatre whatever the weather".
If you see the band more than once it's more than likely it'll be a different line up each time. "We all have to pay the rent. Trying to organise more than two people to be in a room more than twice a fortnight became more than I could handle. So we get the tunes to a good place with everybody and then go with the flow depending on availability".
The bands at the Hootie are very varied each year and have very different backgrounds. Gem has played at Glastonbury and other festivals that are so trendy they certainly wouldn't let me in – but playing the Hootie was a no-brainer.
"The Hanwell Army. I owe Hanwell a lot, I'm proud of my roots. I also know a few bands who played last year & they gave it great feedback".
Growing up, Gem says she listened mainly to folk after her auntie got her into acts like John Martyn, Nick Drake, Tom Waits and Leonard Cohen. "I love the old English folk stuff because of that. Bert Jansch and John Renbourn, Pentangle, The incredible string band. My parents are both classically trained musicians so there was a lot of classical music in the house. The Penguin Café Orchestra will always remind me of family car journeys. I discovered Nirvana circa '94 and then everything changed!"
You can see Gemma and the Mil Men at The Village Inn (used to be the Royal Victoria) on Boston Rd they are scheduled to be on stage at 5.30. Then the same venue has my other 'must-see act, Felix Hagan and the Family, at 10 pm – maybe I'll take a sleeping bag down there on Friday and snag my place.
As for a play about Hanwell – I think we should go for "The Only Way is W7"
Have a preview of Gem here …..
Viv Ellis
19th March 2015