London's biggest free one day music festival
All eyes and ears will be on Hanwell very soon - because it's nearly time for the Hanwell Hootie.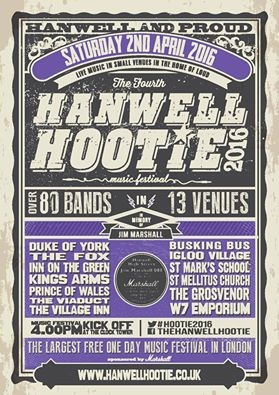 Four years ago Andy McRobbie and a group of friends decided that Hanwell should commemorate Jim Marshall OBE who set up his company Marshall Amplification in townl in 1962 and went on to become "The Father of Loud".
The first year of the Hootie, 2013, saw 13 bands in 3 venues and it has grown year-on-year so that 2015 saw 65 bands in 12 venues.
This year will be the biggest yet with over 80 bands, 14 venues and around 10,000-12,000 expected to attend.
This year will introduce Alice's Wonderbands Stage. This area will be dedicated to the memory of murdered teenager Alice Gross and in support of Alice's Youth Music Memorial Fund.
Alice's Family have said:

''We are delighted that the Hanwell Hootie have decided to make anannual stage for young musicians, Alice's Wonderbands, following last year's fundraising event at the Grosvenor, and in tribute to ourdaughter Alice's memory. We set up Alice's Youth Music Memorial Fund to support the work of the National Foundation for Youth Music. Alice was a talented musician, singer and songwriter, and we were keen to establish a lasting legacy to create music-making opportunities for disadvantaged children. Youth Music is a national charity investing in music-making projects for children and young people facing challenging circumstances. We hope that the stage, and donations to Alice's fund, will spread the joy that Alice found in music to other young people.''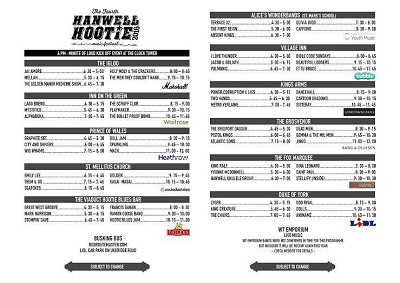 The Hootie takes place on Saturday 2nd April and there will be free buses from Ealing and Brentford stations.
2nd March 2016