The Hanwell Hootie is back - Saturday 28th March
The 2015 Hanwell Hootie will take place on the last Saturday of March this year.
The free music festival will be bigger than ever, with 45 acts spread over 11 different pubs in W7 and it will all kick off at 4pm.
The Hanwell Hootie - sponsored by Marshall Amps - was launched three years ago in memory of the legendary Father of Loud, Jim Marshall who died at the age of 88.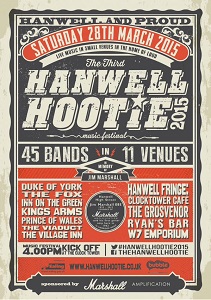 25th February 2015
25th February 2015