Royalty chosen and social evening this Friday
Hanwell's Carnival royalty has been selected for 2014.
The judging took place on Saturday 8 March and the panel had a tough time choosing from a very competitive field of candidates.
This year's queen is Helen Schilli Somjen, the princess is Lucy Bridges and the prince is Sukaran Vaid. They will lead the procession as it makes its way through Hanwell and will also be treated to a bit of pampering, befitting of a royal.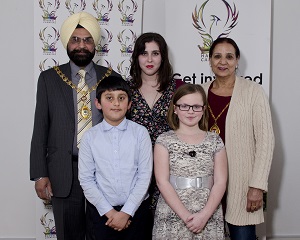 The royal family is just one of the many ways to get involved in the Hanwell Carnival, which will be held on Saturday 21st June in Elthorne Park, Boston Road.

It's run by the community for the community and the organisers want more people to get on board. The carnival needs volunteers to help in the run up to carnival and on the day itself. It also wants to hear your ideas.

A social evening will take place on Friday 21 March and it is open to everyone, whether you want to sponsor one of the attractions, parade in the procession or show off your culinary skills in the new artisan food tent.
The invite is also extended to anyone who was involved last year – from the advertisers and charities to the musicians and volunteers.
The social will take place at Inn on the Green, Lower Boston Road, at 8pm.
If unable to make the social, people can register their interest on the Hanwell Carnival website – www.hanwellcarnival.co.uk - under the get involved section.
19th March 2014