Ealing Exiles - match report
Related Links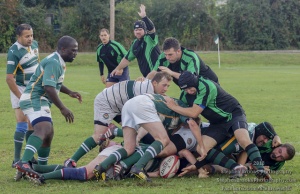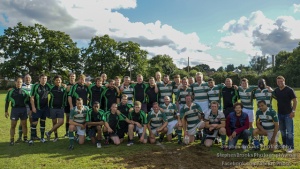 Photos courtesy Stephen Brooks
Hanwell RFC are still recruiting players of any standard as well as a main club sponsor. Please contact John via hanwellrfc@outlook.com for more details.
Participate
Sign up for our free Ealing newsletter
Comment on this story on the
Last Saturday saw Hanwell Rugby Club play their third pre-season game in preparation for their first season within the Middlesex Merit Table.

Having already seen off both Whitton Lions and Uxbridge II's and despite carrying numerous injuries to key players, confidence was high amongst the team as they made the short journey to Ealing Trailfinders to take on The Ealing Exiles.

The recent warm weather had left the ground hard, so it is possible that only the local rugby community welcomed the heavens opening the Friday before. The rain was short lived however, as the sun was out on Saturday for what proved to be a thrilling local derby.

The Exiles were quick of the mark securing ball and running in under the posts for an early converted score. The next 30 minutes were a tight affair that could easily have seen either team run in the next try, with Hanwell seemingly wanting to run the ball against the Exiles preference of keeping the game tight.
Ealing started to turn the screw, showing the experience they have as an established team and they began to put pressure on the visitors line.

Hanwell defended heroically, but Ealing had stepped up a gear and managed to score again.

After the break, Ealing once again capitalised on uncharacteristic Hanwell errors to score early for a second time. Just like the first half though, this seemed to stir Hanwell who fought back and started to get their young centres on the ball. Both started to find space and along with fullback Phillip Nolan, began to stretch the Ealing defence.
Hanwell's break came when number 8, H.O. Louwrens broke away to score under the posts.

Ealing once again stepped up the pace, sensing that the Hanwell pack were tiring under the pressure of missing so many key players, they managed to score again to effectively seal the win 31-7.

Despite the loss, Hanwell can take many positives from this game. The Exiles are an established club team, playing two leagues above Hanwell, yet the game was close for long periods of time with only inexperience the cause of the errors that led to the Exiles' scores.
With only one more friendly to go before the start of their debut league campaign, Hanwell still have plenty of time to work on their game plan for the season. Next up is a visit to Twickenham Bulldogs RFC.



11th September 2013