Thousands defy the weather and enjoy another successful community event
It's a tradition like strawberries and cream.
If it's Hanwell Carnival day – it rains! And it did. And hailed. But there were plenty of sunny, dry bits in between and nobody seemed that bothered anyway.
As ever, a colourful procession started the day from Hanwell Community Centre down to Elthorne Park with Mayfield School getting Mayor John Gallaher's vote for "best costume" (pictured right) .
In the park were 2 stages with live performances, the fabulous Kirby's Flying Ballet which lets you fly through the air like a panto fairy, a fairground, dog show, petting zoo, arts and craft tents and stalls enabling local charities to raise both their profile and much needed funds.
On the Music stage top act was blues singer Jonny Rosch whose extraordinary voice sometimes sounds like he's been gargling with pea shingle. But he's a real crowd puller. He's become something of an adopted son of Hanwell – and truly threw himself into the carnival spirit by performing in local pubs on the preceding nights (till 4am in one!).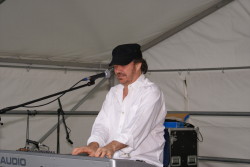 Though my favourite act on Saturday was Et Tu Bruce a classy Hanwell pop band comprising brothers Craig and Darryn Bruce and their longtime mates Matthew O'Toole and Jamie White. There's quite a buzz about them – and judging by their performance on Saturday they're worth keeping your eye on.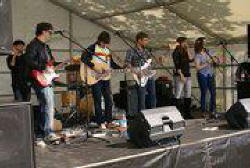 The Community stage gave the crowds a real eclectic and entertaining mix. A very entertaining demo of Camogie – an Irish women's sport, dance acts, local schools and children doing songs. Madcap carnival regulars the Red Barrows – were back with another death-defying routine with their shiny red wheelbarrows (pictured right).
All of this was hosted – by the uber-talented Isaac Okoe who even duetted with the Carnival Queen, Amy Rose Masters.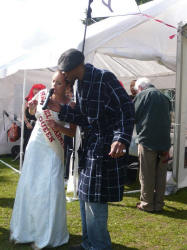 Photo credit Andrea Richardson
The event is a true community effort – organized entirely by volunteers. Next year it'll be on June 16th – pop it in your diaries now,
Viv Elliss
21st June 2011