Hanwell Carnival - Saturday 16th June
How on Earth has a whole year gone by?
It doesn't seem like 5 minutes ago that we were taking the marquees down, picking up litter and wringing out our clothes. And yet this weekend it's all happening again.
As ever, the team of dedicated, hard-working volunteers – of which I am proud to be a member- have lined up a day with plenty for kids and adults alike, including live bands, community acts, charities, a fun fair and children's activities.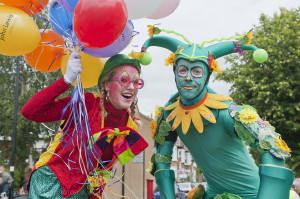 The day starts with a procession from Hanwell Community Centre – all are welcome to come and watch. And throw things (like 5 pound notes). It leaves at 11.30.
On the music stage are soul headliner Xantone Blacq currently riding high in the soul chart, local stars Et Tu Bruce, power trio Melody Nelson, classic rock'n'soul band,Sub Deluxe, the elegantly named Dub Knob and singer/songwriter Cairo Sun who names as his hero one Jimi Hendrix ….. who used to have a house in Hanwell (or so they say). Synchronicity or what? W don't just throw this together you know.
At the Community Arena: a mix of dance, sport and vocal talent, including Ealing Street Dance, The Hanwell Academy of Cuban boxing, Ebony Steel Band and Ealing Rock Choir.
Brand new for this year, the Jamming Tent, where local musicians can turn up with an instrument of their choice and strut their stuff.
There's loads for the kids to do – fairground, given more space this year, petting zoo, children's rides, a rockwall and bungee trampoline and Hanwell's own Kirby's Flying Ballet.(I so want a go this year)
No carnival would be complete without a dog show. We've got one - with even a fancy dress category for all those doggie divas.
The carnival enables charities to raise their profile and raise much needed funding. Those taking part range from the local : Hanwell Homeless Concern, Meadow House Hospice, Hanwell Neighbourly Care. National: RSPCA, Cancer Research, and international: the Friends of Sebastiya and Compassion Service Society of India to name but a few.
Usually it's a question of "Will it rain this year?" I think this year it's more like "What time will it rain?" But you know what ….. it doesn't matter . We'll carry on as usual – and we all hope you will too.
Hanwell Carnival 2012 Elthorne Park, Boston Rd 12.00-7.00
Viv Ellis
12th June 2012