Ealing-grown talent Sim Flemons presents 'The Fallen'
Related Links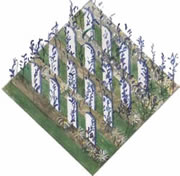 Participate
To find out about courses in Horticulture, Floristry, Garden Design, Sports Turf Management, Organic Husbandry and Botanical Illustration at Gunnersbury Park visit www.capel.ac.uk/gunnersbury, call 08456 122 122 for a prospectus or come along to our advice session on Thursday 19th July, 5.30-8pm.
Capel Manor College Gunnersbury Park
Popes Lane, London W3 8LQ
Tel: 020 8993 6266 or 08456 122 122
Sign up for our free newsletter

Comment on this story on the Ealing forum
A prestigious panel, including none other than Diarmuid Gavin, have picked Sim Flemons' show garden to appear at the RHS Hampton Court Palace Flower Show.
The Ealing based garden designer has been chosen to stage a conceptual garden using only native wildflowers in order to raise awareness of the increasing loss of British native plants. Visitors will be able to see the garden, "The Fallen", from 3rd to 8th July.
Sim and his co-designer John Warland met whilst both studying Garden Design at Capel Manor College in Gunnersbury Park and have been working together on the project since 2006.
Commenting on the news Sim said: "I am really excited about creating a garden at Hampton Court. When I set up my own Garden Design, build and maintenance business, 'Piece of Green' last year I never expected that I would be exhibiting at an RHS show so soon."
He continued: "In building this garden we hope to produce a tranquil and reflective atmosphere in which to ponder the fate of wild flowers in Britain and the causal factors for their decline.
"According to the Joint Nature Conservation Committee there are nine lost native species recorded. Many more are on the brink of extinction. Habitat loss because of the increase in residential land use, air pollution and climate change are all having a huge impact. We need to re-evaluate our relationship with nature, and soon."
Sim Flemons set up his design, build and maintenance business 'Piece of Green' in West London in 2006, having taken a career change from working in the legal profession for seven years. He maintains a number of private clients in and around the west London area and following this project he and John plan to maintain a collaborative design relationship.
To see the garden visit stand number A8 at the RHS Hampton Court Palace Flower Show, or for more information on 'Piece of Green' contact Sim Flemons on 07717 534 542, or visit the website at www.pieceofgreen.co.uk/
June 25, 2007