An Ealing half-marathon runner could win an ebike
Related Links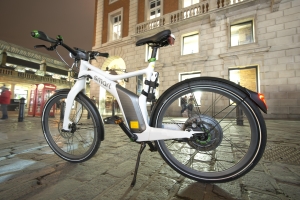 One lucky runner in September's Ealing Half Marathon will win
a smart ebike from Mercedes-Benz
Participate
Sign up for our free newsletter
Comment on this story on the

A competitor in this year's Ealing Half Marathon will get the chance (if their legs haven't given up) to ride away on a smart ebike.
It's a prize donated as part of
Mercedes-Benz Brentford's community support programme.

First held in 2012, the Ealing Half Marathon on Sunday 29th September starts and finishes in Lammas Park.
At the completion of the 13.1 mile race, one participant will be drawn to win a unique pedal electric bicycle.

Mercedes-Benz Brentford General Manager Trevor Webb took part in the inaugural event last year and will lead a team of approximately 20 employees, raising funds for the Macmillan Cancer Support and care charity.

He said: ''The Ealing Half Marathon was a fantastic addition to West London's diverse range of events in 2012. I really enjoyed competing and Mercedes-Benz Brentford is proud to get behind this September's race.''

One of only three half marathons in London held on fully closed roads, Ealing Half Marathon organisers will have a new Mercedes-Benz A-Class at their disposal as the event approaches.

"We're trying to maintain a real community feel with the Ealing Half Marathon as it grows, and working with local businesses is a big part of that. It's fantastic to have the support of Mercedes-Benz Brentford, both as sponsors and competitors," said Sandra Courtney, Ealing Half Marathon event co-ordinator.

3rd July 2013