Macmillan's Longest Day Golf Challenge
Related Links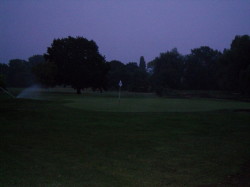 The first green at Ealing Golf Club at 5am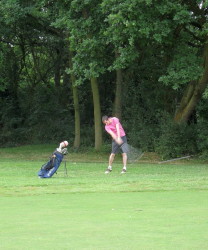 Tim Craig hitting into the sixth green at Ealing Golf Club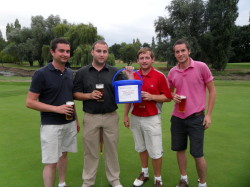 Adam Craig, Marc Thorn, Owen Pierce and Tim Craig
Participate
Sign up for our free newsletter
Comment on this story on the
Four members of Ealing Golf Club in Perivale have helped raise more than £2,000 for Macmillan Cancer Support by playing 72 holes in one day – the equivalent of 20 miles and 350 shots each.
The group of friends – Adam Craig, 26, Owen Piece, 27, Tim Craig, 24, and Marc Thorn, 24 – hit their first shots in Macmillan's Longest Day of Golf Challenge 2010 as day broke at 5am on Sunday, 25 July. 15 hours and 20 miles later, the youngsters, who all have single-figure handicaps, completed the 18th hole at Ealing Golf Club for the fourth and final time, with a combined team score of 38 under par.
Friends, family, colleagues and other members of the golf club have been donating generously to the cause and the funds raised by the team will help Macmillan Cancer Support continue the work they do improving the lives of people affected by cancer.
Adam and Tim Craig from Perivale Lane lost their mother Kris,52, to cancer four years ago and the brothers have been raising funds for Macmillan ever since.
Adam commented: "Macmillan does a great job helping support those who are suffering from cancer and the help and advice they offered us when our mum was fighting the disease was incredible. The work they do for people across the UK is priceless.
"The four of us have been playing golf together for a long time, but have never come close to playing four rounds in one day! There were blisters, aching bodies and a lot of tired, wayward golf shots towards the end, but it was great to raise more than £2,000 for the charity which will help them continue their fantastic work," added Adam.
Owen Pierce, who hit 12 birdies over the four rounds, went on to say: "It was a long day out on the course, but one we won't forget. We'd like to say a huge thank you to everyone that helped us raise a fantastic amount of money for the charity and also the members of the club, who kindly had four pints of lager waiting for us on the 72nd hole!"
Macmillan Cancer Support hopes the popular golfing challenge, which is supported by Gary Lineker, will raise more than £365,000 to help them continue providing services which help make a real difference to the lives of cancer patients and their families.
If you would like to sponsor the team please visit original.justgiving.com/ealingchoppers
26 July 2010