A Century of Musicals
Related Links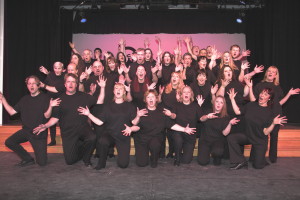 The popular performances sell out quickly so book soon! Secure online booking at www.glocmt.org.uk
Telephone Box Office: 020 8572 0475 and Email: boxoffice@glocmt.org.uk
Participate
Sign up for our free newsletter
Comment on this story on the
Our next show is A Century of Musicals Volume Two, which takes place at Drayton Manor High School, Drayton Bridge Road, W7 1EU from 27th-30th October.
In this, our nineteenth annual 'fish and chip show' at Drayton Manor, a cast of over 50 explore songs from musicals set in every decade of the last century with all the enthusiasm and depth of talent which our audiences have come to expect.
Performances are at 8.00 nightly Wednesday-Saturday with a matinee performance on the Saturday afternoon at 3.30. Seating is at round tables with room for 10 and the food at evening performances is a choice of fish, chicken, sausage or vegetable grill, all with chips.
There is a licensed bar at all performances where you can purchase wines and Fullers beer and a selection of other hot and cold beverages. There will be cake available during the matinee and other snacks at all times.
Tickets are £14 (including supper) for the evening performances and £9 (no food) for the matinee.

October 5 2010