Taking place from Thursday 15th September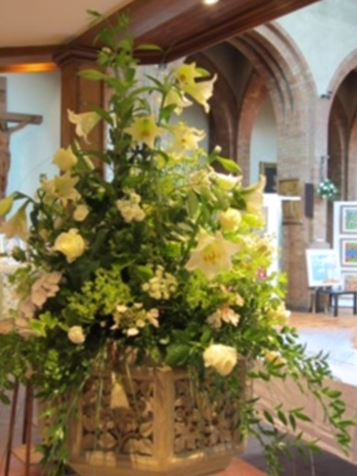 Celebrations of St Barnabas' centenary continue with a festival of flowers that will fill the church.
On Thursday, September 15, the Centenary Flower Festival is launched with a preview of the 25 spectacular displays inspired by each of the last ten decades, aspects of church life and the history of St Barnabas.
Additionally, there will be many smaller but beautiful flower arrangements together with live music that will fill the church. Entrance £8 to include cheese, wine and canapés - tickets are available from the Parish Office (020 8998 4079) or Anne Hamerton on 020 8998 0236.
On the following three days – Friday, Saturday and Sunday - the music from each decade will be recorded; entrance is free, although donations are welcome. Refreshments – including home-made cakes - will be available each day.
Thursday September 15 - 7pm to 9pm
Friday September 16 - 10am to 8pm
Saturday September 17 - 10am to 6pm
Sunday September 18 - 2pm to 6pm
St Barnabas Church, Pitshanger Lane, Ealing, W5 1QG
6 September 2016