Trailfinders Sports Club Saturday 21st August

Related Links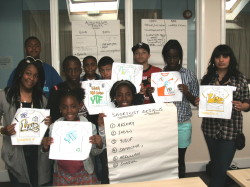 A2Dominion Community Involvement Co-Ordinator Norma Mthethwa with Youth Task Force Members Jerrell Butler, Kai Watson, Jadyn-Frances Banful, Samantha-Jayne Banful, Declan Jones-Mensah, Luanna Banful, Mason Babel, Michael McCauley and Ruby Kaur Sidhu with Youth Task Force young volunteer Olivia Suubi.
Participate
Sign up for our free newsletter
Comment on this story on the
Youngsters aged from eight to 15-years-old are organising a free family fun day in Ealing to raise awareness of living an environmentally-friendly lifestyle.
Members of the Youth Task Force, which was set up and is supported by local housing provider A2Dominion, are holding their event on Saturday August 21 at the Trailfinders Sports Club in Vallis Way, Ealing, from midday to 4pm.
Hundreds of residents from across London, including Ealing, Hounslow, Sutton and Hammersmith & Fulham, are being invited to attend. The event is open to all residents of A2Dominion who live in the London region.
A host of events are set to take place on the day, including:
* An exhibition of artwork made from recycled materials
* Football training sessions and a football tournament run by Queens Park Rangers football club
* Street dance workshops and performances by Ghost Dance Troupe
* Free barbecue
* Adult gardening activities
* Family sporting events such as egg and spoon races and wellies throwing
* Bouncy castle
* Face painting
* Gladiator duels
* Go Karts
As part of the event, an initiative called 'Ask Coach' will allow people to sign up for their own personal skills coach.
People will be able to find out about a range of volunteering, training and employment opportunities, including those related to the 2012 Olympic Games. This is part of the 2012 Employment & Skills Outreach Programme funded by the London Development Agency.
Lorna Anderson, A2Dominion's Director of Customer Services, said: "Our Youth Task Force members have been doing a fantastic job of organising this family fun day.
"The youngsters have been meeting on a monthly basis to decide what activities they would like to have at the event.
"There's going to be a wide range of fun activities on offer, and we're looking forward to seeing a great turnout from our residents."
Youth Task Force member Samantha-Jayne Banful, 14, of Hounslow Heath said: "This event is about bringing the community together, so please support our fun day by coming along.
"I love Youth Task Force. It gives me a chance to express my views and concerns, and allows me to make a positive change within my neighbourhood."
A2Dominion residents wishing to attend need to book in advance by calling 0800 432 0077 or emailing community.london@a2dominion.co.uk. Mini-buses will be operating from a number of locations, with places allocated on a first-come first-serve basis.
Any local service providers wishing to attend the event to hand out information and advice are encouraged to get in touch with A2Dominion to book a stall.
A2Dominion, which is a not-for-profit organisation, has thousands of residents across London and manages more than 3,000 homes in Ealing; more than 1,700 homes in Hammersmith & Fulham; more than 2,000 homes in Hounslow; more than 1,000 homes in Westminster.
16 August 2010